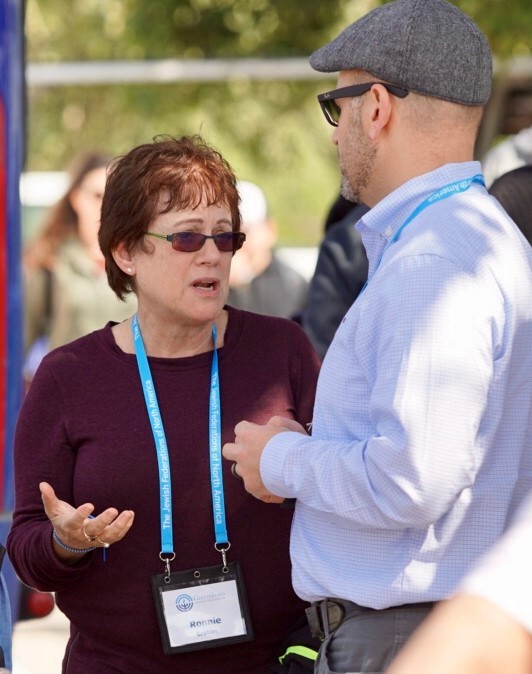 By the time we got to RDU our flights had been cancelled and 35 of us would be re-routed through 6 cities before finally reconnecting as a group three days later at Setai on the Sea of Galilee (really a lake). While some of us missed Tel Aviv, those who missed the food tour caught up quickly! The theme of complexity that started our trip would pursue us throughout this amazing country.
During our days in the north of Israel, we stopped at many places important in the life of Jesus, such as Nazareth, Magdala and Capernaum. In Nazareth, a largely Arab town we also visited the White Mosque. Being able to see the excavations of the synagogues and fishing villages where Jesus lived and preached was to see the history of religion written in stone.
When we visited the Golan Heights – a beautiful area so important to Israel's security - and stood on a kibbutz where we were able to see Syria and Jordan at the same time, we experienced the geography of Israel with a different eye.  After two days as we reluctantly left the north to head towards Jerusalem. We stopped on the banks of the River Jordan to experience or watch our new friends be re-baptized in these important waters. The baptism was a moving experience for all of us.
Arriving in Jerusalem on a Friday is to experience the majesty of the city as she celebrates the Muslim holiday as well as anticipates the Jewish Shabbat. These days have a different rhythm. At the Western Wall, the celebratory singing of those around us who are welcoming the Sabbath bride and having a leisurely Sabbath meal without the pressure of another place to go, was a joy. Saturday was relaxed as we prayed, visited the Israel Museum and traveled to some of the sites where Jesus would have walked. For me, a moving experience was to visit the cabinets that held the objects from the Cave of the Treasures, a special dig that my aunt participated in when she lived in Israel in 1961.
To cap off Jerusalem, we visited the Temple Mount, the site of the Al Aqsa mosque, also called the Dome of the Rock. This was an unforgettable experience that is not always available. The intersection of geography, history and religion that comes with every trip to Israel is not to be forgotten.  
That intersection was again visible at Masada, an awe-inspiring historical and archaeological monument on a hill that was used and reused, from before recorded time, through King Herod, to the zealots and beyond. It is also a place where Herod's Castle was used in a way that he never could have imagined. Herod thought he built it for himself; in retrospect, it appears that he really built it to tell the future a story about Jewish determination.
Although we often tell this story through the dramatic ending; I would rather see it through the eyes of the zealots who hoped to maintain an outpost that would keep Judaism alive for the days when we could openly celebrate our religion again. They succeeded and the dovecote on Masada was a visual reminder of the book The Dovekeepers, that helps Masada come alive for us today.
So far, I've spoken almost entirely about religious traditions and sites from ancient Israel. We also spent a time on modern Israel. Throughout our journey we visited organizations that heal children's hearts, teach their minds, bring them together from different walks of life, help young people to work together to solve environmental issues and help older people continue to feel productive.
On these journeys we saw and heard about people originally from Eritrea, Ethiopia, Palestine, Syria, Israel, Columbia and Russia. People from different faith traditions and practices. Israel is committed to molding a society that can accommodate all. This commitment by Israel is certainly a mission as difficult as securing the country in a dangerous world.
This journey would have been impossible without my fellow travelers. Everyone was a learner, and each offered a perspective that connected the world we were seeing with the world we live in here. Conversations, food and an unstated amount of drink were part of the ways we connected to bring this trip back to our lives. Overall, this was a moving journey that forced me to consider the intersection of religion, nationality and identity that form the complexity of Israel both internally and within our larger world.